Stop slow PDF documents on your site
Make them fast and flippable!
Browsable PDF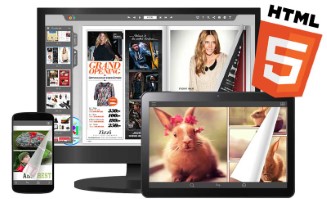 Fast online browsable documents
Your publications give the experience of a book
Flip Service, part of Jolly Gecko, turns your slow-loading PDF documents into powerful, fast online browsable documents that are smoothly displayed on PC, laptop, iPad, iPhone and Android devices. There is a choice of numerous templates that can all be adapted to your house style or wishes. By adding one of the many options, such as video, sound, animation or interactive buttons, you can make your document even more attractive to your readers.
You can place the documents on your own server or at a super low rate in our cloud. You only need to create a link in your website. The texts in the document remain searchable for the search engines!

Do you issue an online periodical? Then we can also arrange subscriber registration and mailing for you!
  NO ADVERTISING, NO RESTRICTIONS, NO OBLIGATIONS, SIMPLE, JUST CHEAP!    
Some applications and examples
Options for your online publication
Internal and external links
Additional images, slideshow or photo album
Video's from Youtube or Vimeo
Various templates with customizable colors
Share buttons to Social Media